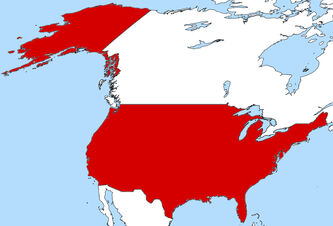 The
United States of America
(commonly abbreviated to the
United States
, the
US
, the
USA
,
America
, and the
States
) is a federal constitutional republic comprising fifty states and a federal district. The country is situated mostly in central North America, where its forty-eight contiguous states and Washington, D.C., the capital district, lie between the Pacific and Atlantic Oceans, bordered by Canada to the north and Mexico to the south. The state of Alaska is in the northwest of the continent, with Canada to the east and Russia to the west, across the Bering Strait. The state of Hawaii is an archipelago in the mid-Pacific. The country also possesses several territories in the Pacific and Caribbean.
In 28 Days LaterEdit
During the Original Outbreak of the Rage Virus in Great Britain, the day before broadcasts in the country ceased, there were reports that the Infection had surfaced in Paris, France, and New York, US (28 Days Later (film)). However, these reports were presumably false. On Day 15 of the outbreak, there was also mass paranoia in the US of Infection spreading to America. (28 Days Later (comic series))
Eleven weeks after the original outbreak in Britain, by which time most of the Infected in England had died of starvation, the US led a NATO military force into London to repatriate the city. However, twenty-eight weeks after the Original Outbreak, when the Rage Virus broke out in the security zone, the United States Army resorted to exterminating and massacring both the infected and uninfected residents and firebombing the green zone. (28 Weeks Later, 28 Days Later (comic series))
Ad blocker interference detected!
Wikia is a free-to-use site that makes money from advertising. We have a modified experience for viewers using ad blockers

Wikia is not accessible if you've made further modifications. Remove the custom ad blocker rule(s) and the page will load as expected.