Mr. Bridges was Jim's neighbour. He was infected and subsequently killed by Selena.
Biography
Edit
Bridges and his daughter were neighbours of Jim's parents, and lived in Deptford, four houses down the street from them. During the Original Outbreak of the Rage Virus, Mr. Bridges and his daughter were both infected.
29 days into the outbreak, the infected Bridges and his daughter were drawn to Jim's house by the light of a candle. Mr. Bridges and his daughter broke into the house through the skylight and patio doors and attacked Jim.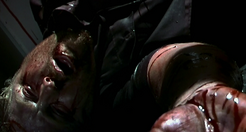 However,
Mark
and
Selena
came to Jim's aid, and Selena killed Bridges by beating him to death with her machete.
Personality
Edit
Apparently, Jim's family were very good friends with Mr. Bridges and his family. Jim described Mr. Bridges as a very warm and kind-hearted man. And was very shocked to learn that he and his daughter were behind the vicious attack on him. Showing just how easily the Rage Virus can completely change a person and destroy friendships and families.
Ad blocker interference detected!
Wikia is a free-to-use site that makes money from advertising. We have a modified experience for viewers using ad blockers

Wikia is not accessible if you've made further modifications. Remove the custom ad blocker rule(s) and the page will load as expected.