Portrayed by:
N/A
Appearance(s):
28 Days Later (comic series)
Profession:
Nationality:
British
Category:
Infected
Status:
Deceased
Cause of death:
Impaled by Selena with a pipe
David was Selena's loving husband before the Rage Virus broke out. He was infected and killed during the outbreak.
Biography
Edit
David married Selena at some point before the outbreak, and always treated her with warmth and respect, no matter what happened. At one point, he bought Selena earrings and a necklace with her birthstone as a present.
During the Original Outbreak of the Rage Virus, when London was attacked by the Infected, David tried to escape the country with Selena. However, while he was packing their belongings, an infected man broke in through the window and attacked and bit David, prompting him to kill him. However, David had been infected when the Infected bit him, and was overwhelmed by the Infection. The infected David then attacked Selena, forcing her to kill him by impaling him to the wall on a pole.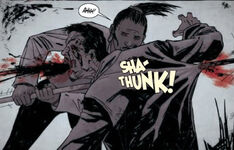 After David died, his corpse remained impaled to the wall in his and Selena's old house; and within seven - eight months after his death, it fully decomposed, leaving little more than his clothes and his skeleton. When Selena returned to her and David's old home, she buried David's corpse in the house's back garden, along with the earrings and the necklace David gave her. (28 Days Later (comic series))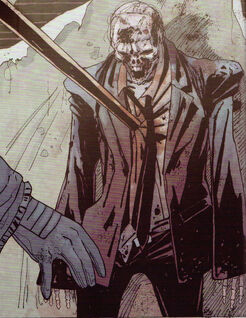 Personality
Edit
David loved Selena deeply and almost always treated her with warmth and respect, no matter what.
Ad blocker interference detected!
Wikia is a free-to-use site that makes money from advertising. We have a modified experience for viewers using ad blockers

Wikia is not accessible if you've made further modifications. Remove the custom ad blocker rule(s) and the page will load as expected.